Landscape & Hardscape Services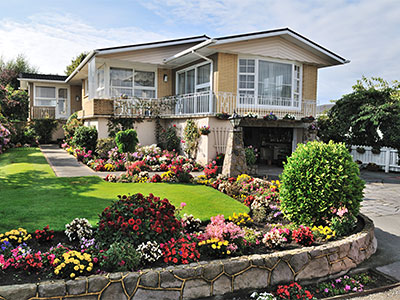 For us at Hodges Landscaping Solutions, it's been a matter of pride to provide custom landscaping solutions to clients in and around Holly Hill, Ortona, and Seabreeze. We have worked on many similar projects in Daytona Beach, Ellinor Village, Ormond Beach, and Blake.

Today, a large number of our clients are in Daytona Beach Shores, South Daytona, and Tomoka Estates. Catering to clients in Ormond-by-the-Sea, Port Orange, and the surrounding areas has seen our client base spread to many other neighboring towns as well. The range of services we provide includes:


Landscaping
Excellent landscaping requires creativity, knowledge as well as experience. We have all of these as well as the resources to provide our residential and commercial clients with the type of landscaping solutions they require. We focus on aspects such as personalization and customization to make sure that your landscape meets your ideas and vision.

When we are designing any landscape, care will be taken to ensure that all the different features are planned to perfection and installed with attention to detail. The best materials would be used in the work, ensuring the longevity and ease of maintenance for these outdoor spaces. In addition, we also prioritize aspects such as water-efficiency and energy efficiency while providing landscape plans. Read More About Landscaping »


Landscape Design & Installation
Creating stunning, resilient and durable landscapes is a lot about making sure that the landscape design is planned to perfection. Aside from this, it also becomes important to install all the features with attention to detail. As a full-service landscaping company, we provide top quality landscape design and installation services to both residential as well as commercial clients.

Customization is something that we always focus on regardless of the scale of the project. Our creative landscape designers have the ability to design outdoor spaces in different themes. They will make sure that the landscape design complements the look of your home as well as the overall aesthetic of your property. Read More About Landscape Design & Installation »


Landscape Maintenance
Once your landscape has been installed, it is important to ensure that all the features on it are maintained with regularity. Not only does this help keep them looking great at all times, but also ensures that they will last for a number of years without any trouble. Softscaping such as plants, trees as well as lawns require regular care.

Our team will ensure that the landscape maintenance plan they design for you includes every aspect of your outdoor spaces including all the hardscaping or masonry features. We use the best quality materials and products in our landscape maintenance jobs, ensuring the appeal and health of your plantings and trees. Read More About Landscape Maintenance »


Landscape Lighting
The beauty of your landscape, to a large extent, depends on how well it has been designed and installed. However, you would want to enjoy the outdoor spaces on your property even after dark making it important to have the right kind of exterior lighting installed. We provide the best, custom landscape lighting solutions.

Our team of landscapers will create lighting plans that highlight the key features of your landscape and ensure there are no dark spaces on the property. We also make sure that the solutions we provide are energy efficient which helps you keep control over your energy bills. Well-planned landscape lighting improves the security, safety, and aesthetics of your property. Read More About Landscape Lighting »


Irrigation/Sprinkler Installation & Repair
Irrigation systems are an important aspect of every landscape big or small. If you have plants, trees or even lawns on your property, it becomes important to get the right type of irrigation systems for these features. When we handle any landscape design and installation job, irrigation or sprinkler installation becomes part and parcel of the project.

However, if you have an existing sprinkler system that needs replacing, we are the professionals to call. In addition to providing top quality automatic sprinkler installations, drip irrigation, and soaker hose installations, we can also handle repairs of these systems. Since we customize our solutions to your requirements, you can rest assured that your irrigation installations will meet the watering needs of your landscape. Read More About Irrigation/Sprinkler Installation & Repair »


Sod Installation
If your residential or commercial property has outdoor areas where you want a lawn installed, sod is a good choice. We provide top quality sod installation solutions, using the best grasses from the local nurseries. Many property owners now prefer to get sod lawns rather than hydroseeded ones. A sod lawn can be installed very easily, is ready for use almost immediately and is extremely resilient.

You can choose from different types of grasses for your lawns. Sod is available in rolls or squares which can be cut to fit the shape of the area that has been designated for your lawn. We also ensure that the base is prepared properly and that the irrigation system is functioning well, before starting on any sod installation work. Read More About Sod Installation »


Tree Work: Trimming, Pruning & Removal
Our company provides excellent tree services which include trimming and pruning of different types of trees on residential and commercial properties. Regular pruning helps maintain the health of the trees and encourages new growth. While tree trimming and pruning is generally included in our landscape maintenance solutions, you also have the option to request for it as a standalone service.

In addition to these solutions, we also handle tree removal. There are times when storm-damaged, infested or old trees need to be removed from a property. Our arborists handle this job expertly, professionally and safely and will make sure that the base of the tree trunk is ground completely before considering their job done. Read More About Tree Work: Trimming, Pruning & Removal »


Pavers
Most landscapes have driveways, pathways, walkways and other open spaces such as patios and decks. Even poolscapes are constantly exposed to the elements, making them more prone to wear and tear. This makes it crucial to ensure that the best quality, resilient, outdoor grade materials are used in the installations.

We recommend the use of pavers made of brick, natural stone or concrete. Interlocking concrete pavers are an excellent choice for almost any outdoor space on your residential or commercial property. These are extremely resilient, easy to install and maintain, cost-effective and can last for a number of years without any trouble. We have expert paver installers on our team that can handle installations of any shape and size. Read More About Pavers »


Retaining Walls
Retaining walls are specially engineered structures that are extremely resilient and provide support to the landscape. They help hold back the soil and prevent soil erosion, sinking and sliding. We have vast experience with designing and installing retaining walls made of concrete blocks, boulders, natural stone as well as timber etc.

When we design these walls, you can rest assured that the features would be extremely resilient and last for decades with minimal maintenance. Retaining wall construction is a specialized job and we have installers with years of experience behind them. You can rest assured that your retaining walls will be and long-lasting and appealing. Read More About Retaining Walls »


Outdoor Fire Pits
Fire features add warmth and comfort to the outdoor living spaces on your residential property. As part of our landscaping projects, we also handle installation of outdoor fire pits. These features could be made of concrete, natural stone or even brick. Depending on the styling and aesthetic of your overall landscape, our team of designers will ensure that your outdoor fire pit is designed to perfection.

In some cases, we handle outdoor fire pit design and install as a landscape upgrade project. In this case, we will make sure that this feature complements the existing elements in your outdoor spaces. We can also plan and design the area surrounding a fire pit to include features such as walls with inbuilt seating etc. Read More About Outdoor Fire Pits »


Water Features
Installing water features such as fountains, rock waterfalls or even ponds and streams is a great way to lend a sense of tranquility and calm to a landscape. Well-designed water features can act as a privacy wall, block traffic sounds from the surroundings and create a soothing atmosphere in your outdoor living spaces.

When we handle water feature design and installation projects care will be taken to make sure that the materials and styling of these elements are in sync with the design of the rest of the elements in the garden or yard. We also handle water feature installation jobs for commercial clients. These elements create drama in the outdoor spaces and improve the curb appeal of your commercial property. Read More About Water Features »


Commercial Landscaping
Landscapes on commercial properties not only improve the aesthetics of the space but also help ensure that these outdoor areas have an appealing look. The landscape is one of the first things that visitors to your property notice and its look can have an impact on the impression they have of you as a business. This makes it very important to ensure that all the areas are designed to perfection.

We handle commercial landscaping jobs of any scale and complexity. Our team of designers will make sure that softscaping and hardscaping features are used in the right measure to create cohesive and well balanced outdoor spaces on your commercial property. Our top-quality workmanship goes a long way in improving the resilience and increasing the longevity of your landscape. Read More About Commercial Landscaping »

If you are looking for a company that will work closely with you, and ensure that your project turns out exactly as you envisioned it, feel free to call Hodges Landscaping Solutions at 386-290-6555. Discuss your project requirements with our team of experts to get your landscaping project off the ground.
We Provide Services to the Following Cities, Towns and Surrounding Regions of FL: